RADISSON PLAZA HOTEL - ISKSAA 2019
Radisson Blu Plaza Hotel,
Mahipalpur, National Highway 8, New Delhi
With an ideal location less than five kilometers (10 minutes) from Indira Gandhi International Airport (DEL), the Radisson Blu Plaza Delhi Airport provides upper upscale accommodations and convenient city access. Here on business? Enjoy easy commutes to the local corporate hubs of Gurgaon and Cyber City. For some holiday fun, explore India's capital city, home to popular attractions like QutabMinar and the thriving neighborhood of Mehrauli, just a 20-minute drive away. The hotel is also located close to Delhi's shopping malls, including DLF Emporio mall, Ambience Mall and the shops at Connaught Place.

Our 261 rooms and suites offer free high-speed, wireless Internet and peaceful garden views, and our on-site spa provides the perfect retreat after a busy day. Sample something delicious at The Great Kabab Factory or at one of our other on-site restaurants, including specialty Thai restaurant NeungRoi and multi-cuisine restaurant NYC. Top off the evening with a dessert from R - The Lounge.
Nearby Transportation:
Aerocity Metro Station - 0.5 km.
Indira Gandhi International Airport - Terminal 3 (T3) - 5 km.
Indira Gandhi International Airport - Terminal 1 (T1) - 7 km.
Directions from the Aerocity Metro Station:
Exit Aerocity Metro Station and turn left.
Drive toward the city for 200 meters.
Turn right onto National Highway 8. The hotel is on your left after 300 meters.
Directions from the DEL airport:
Exit Terminal 3, and drive toward the city for 300 meters, crossing a security barrier.
Just 800 meters after the barrier, make a U-turn toward National Highway 8, and then take an immediate left turn, where Centaur Hotel is visible on the right side.
Drive straight for about one and a half kilometers, bypassing the flyover on the left to reach the roundabout.
Take the second exit from the roundabout to the lane running under the flyover.
Make a U-turn 600 meters after MahipalpurChowk (crossroad). The Radisson Blu Plaza Delhi Airport is on the left.
Indira Gandhi International Airport

Delhi Junction Railway Station
NEARBY ATTRACTIONS
DISCOVER DELHI'S EXCITING BLEND OF COMMERCE, CULTURE AND HISTORY
The rich heritage of New Delhi is on display in the grand architecture of Red Fort, the classic design of India Gate and the towering splendor of QutabMinar. Looking for a fantastic retail experience close to the Radisson Blu? DLF Emporio mall offers upscale fashion, and Ambience Mall is home to five stories of popular brand-name stores. While you're exploring New Delhi's city center, just 25 minutes from the hotel, be sure to visit Connaught Place, one of the most popular shopping districts in the country.
Shopping
Ambience Mall, Gurgaon - 5 km
With stores like Bose, H&M and Michael Kors, an inviting coffee shop and a movie theater, Ambience Mall holds enough fun to fill an entire day in Gurgaon.
Tel: +91 124 473 7123
DLF Emporio - 6 km
One of the country's most upscale malls, this shopping center is located in VasantKunj and is home to 170 chic shops, including Jimmy Choo and Gucci. Browse your favorite luxury brands, and then indulge in a meal at one of many fine restaurants.
Tel: +91 114 611 6666
Connaught Place - 16 km
Enjoy a trip to Connaught Place, the capital city's central business district and one of the most popular shopping destinations in India.
Historic Sites:
QutabMinar - 14 km
The world's largest brick minaret was constructed in 1193 by the founder of the Delhi Sultanate and then restored in 1369. Further restorations in the 19th century resulted in the addition of a pillared cupola, called "Smith's Folly," now installed at ground level.
India Gate - 16 km
A sobering memorial to the Indian soldiers who fought and died in World War I, this monument is a can't-miss stop on your tour of Delhi. Admire the monument and surrounding fountains from the area's beautiful green spaces.
Red Fort - 17 km
Originally the home of Mughal Emperor Shah Jahan, this immense complex is a beautiful architectural marvel made of red sandstone. Visit to tour multiple on-site museums.
Other points of interest:
Kingdom of Dreams - 11.4 km
For an exciting evening filled with music, food and fun, head to this colorful entertainment complex. See shows based on Indian culture and mythology in two on-site theaters.
Tel: +91 124 452 8000
PragatiMaidan - 17.2 km
In town for a conference or trade show? PragatiMaidan is one of the city's largest exhibition spaces, featuring facilities that cover more than 625,000 square meters.
Tel: +91 112 337 1540
SwaminarayanAkshardham New Delhi - 22.6 km
Opened in 2005, the Akshardham Temple complex is a Hindu house of worship with stunning marble and sandstone carvings. Visit in the evening to see a striking multimedia performance at the impressive fountain on site.
Tel: +91 114 344 2344
ABOUT DELHI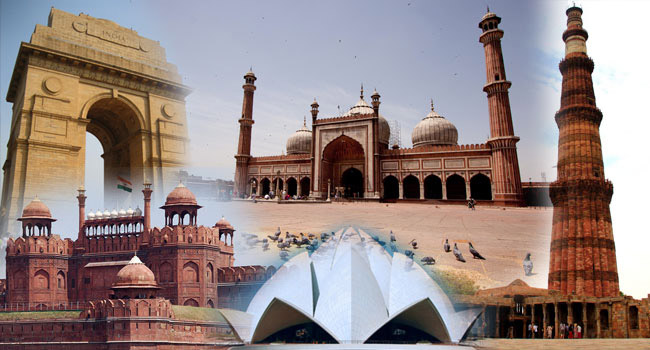 Delhi – with its tenacious touts and crush of mechanical and human traffic – can be downright confronting and confounding for the first-time visitor. But don't let petulant first impressions muddy the plus points of this truly multidimensional metropolis. Scratch beyond the gritty surface and you'll swiftly discover that India's capital is sprinkled with glittering gems: captivating ancient monuments, magnificent museums, a vivacious performing-arts scene and some of the subcontinent's yummiest places to eat.

A vibrant melting pot, you'll hear a jumble of vernaculars spoken in Delhi, the most common being Hindi, English, Punjabi and Urdu. In terms of its layout, Delhi encapsulates two very different worlds, the 'old' and the 'new', each presenting deliciously different experiences. Spacious New Delhi was built as the imperial capital of India by the British; rambunctious Old Delhi served as the capital of Islamic India. Visitors can easily dip into both, spending half the day immersing themselves in history at the dramatic Red Fort, Jama Masjid and medieval-flavoured bazaars of Old Delhi, and the other half reviving themselves over frothy cappuccinos or frosty cocktails at one of New Delhi's swanky cafés and bars. Furthermore, Delhi's recent global cuisine revolution means that hungry travellers can now feast on everything from meaty Mughlai curries and plump South Indian idlis (rice cakes), to crispy wood-fired pizzas and squishy sashimi.

For those here to catch a flight home there are some glorious last-minute shopping opportunities, with handicrafts from all around India – a real blessing if you regret not buying that twinkling mirrorwork bedspread in Rajasthan or striking Madhubani painting in Bihar.

AROUND DELHI - THE GOLDEN TRIANGLE
Visit Delhi and follow the famous Golden Triangle. Enjoy the perfect introduction to India's three most popular destinations - Delhi, Agra and Jaipur to explore the icons and discover the secrets of this fascinating region. From the capital of Delhi, with its bustling markets, magnificent monuments and colonial past you head to Agra to view the well preserved Agra Fort and the stunning Taj Mahal. Truly one of the wonders of the world, see why it was described by Rabindranath Tagore as a 'teardrop on the face of eternity'. Then continue on to to Jaipur, the capital of Rajasthan, discover why this is known as the Pink City and explore the incredible Amber Fort.