Venue
The Leela Ambience Hotel & Residences, Gurgaon Delhi N.C.R
The venue of the Conference was at The Leela Ambience Gurgaon Hotel & Residences. Located within 15 minutes drive from the Indira Gandhi International Airport and on the Delhi-Gurgaon border, The Leela Ambience Gurgaon offers 322 luxuriously appointed guestrooms and suites and 90 Residences in configuration of one, two and three bedroom options, making it the only property in the region with comprehensive accommodation solutions, for modern luxurious living.

The guestrooms are a balanced synthesis of space, elegance and state-of-the-art technology. They feature a full range of modern amenities and facilities including Wi-Fi internet connectivity, LCD Television with Blue Ray Player and Bose iPod Dock. Two exclusive floors of The Royal Club offers guests personalised and complimentary services with added Royal Club Lounge facilities.

Amongst dining options are Spectra – a one-of-its-kind spectacular 225 seater restaurant showcasing seven culinary islands with live kitchens. Diya – an elegant 112 covers Modern Indian cuisine restaurant. Zanotta, Cucina Italiano - an Italian restaurant and an eclectic bar called Rubicon. Apart from this, the hotel has an exclusive Business Club offering membership by invitation only.

The hotel offers the largest banqueting facilities in the region with over 27,000 sq ft of function space including pillar less ballrooms, board rooms and meeting rooms with state-of-the-art equipment that meet the most advanced requirements of discerning clients. In addition, a full service Business Centre is offered to guests for their business needs.

For relaxation the hotel offers the outdoor heated Swimming Pool with spectacular views of the city greens, the state-of-the-art Fitness Centre with Techno Gym equipments, Yoga & Aerobic Studio and a full service Beauty Salon. The hotel boasts an expanse of 20,000 sq ft of Day Spa – Lavanya with eleven personal therapy rooms offering international and Ayurvedic treatments for a relaxing & de-stressing experience.

Amongst many interesting features of the hotel are the grand showcase of Indian contemporary art and an extensive use of advanced technology in the public areas, rooms and banquet spaces, qualifying The Leela Gurgaon as a destination of choice by discerning business and leisure travellers.
USP's of the Hotel
Close proximity to the international / domestic airport.
In the heart of the bustling central business district.
Largest inventory of guest rooms in Gurgaon.
A hotel that offers the most spacious (45 sq. mts. onwards) and tastefully designed guest rooms.
Base category room size equals to a suite of any hotel.
Market leader in structured service apartments segment, 1st of its kind in a 5 star category hotel in Delhi NCR.
Fully central air-conditioned and the only hotel in the national capital region with options of both cooling as well as heating in the guest rooms and apartments.
Total covered area of 27,000 sq. ft. which makes The Leela Kempinski Gurgaon the largest MICE hotel in Gurgaon, Delhi & N.C.R.
All the conference venues are on the same floor which makes the accessibility to the parallel / breakout sessions comfortable.
One of the largest SPA in the country (over 20,000 sq. ft. of space).
Only hotel in the national capital region which is fully Wi-Fi internet enabled.
Only hotel in the national capital region with a complete integrated IP framework.
A unique "All day dining" restaurant with 240 covers, semi-private dining rooms and six live kitchens.
The only hotel in Gurgaon with a cigar lounge.
The only hotel in Gurgaon with a corporate business club.
Multi use complex with an adjoining 1 km premium shopping mall.
Dedicated covered parking for over 500 cars.
Spa & Health Club
20,000 square feet.
State of the art gymnasium.
Private dressing rooms for men & women.
Luxuriously designed whirlpool, sauna, steam & relaxation rooms.
Luxury treatment suites.
Unique ayurvedic centre.
Fitness center with Techno Gym equipment.
Personal trainer & tailor made programs.
Heated outdoor pool.
Hydrotherapy rooms.
Golf at the nearby DLF Golf Course.




Internation Airport-The Leela Gurgaon

Railway Station-The Leela Gurgaon
For further information, please visit: www.theleela.com.
ABOUT DELHI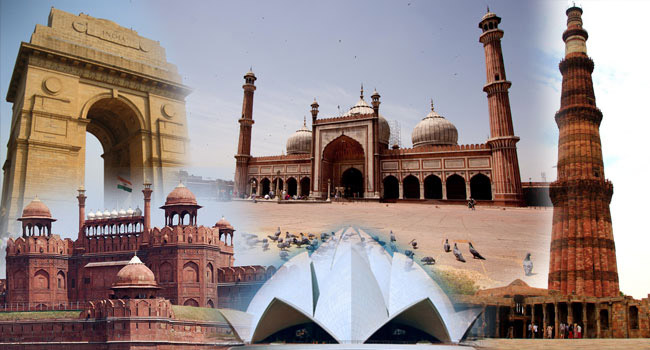 Delhi – with its tenacious touts and crush of mechanical and human traffic – can be downright confronting and confounding for the first-time visitor. But don't let petulant first impressions muddy the plus points of this truly multidimensional metropolis. Scratch beyond the gritty surface and you'll swiftly discover that India's capital is sprinkled with glittering gems: captivating ancient monuments, magnificent museums, a vivacious performing-arts scene and some of the subcontinent's yummiest places to eat.

A vibrant melting pot, you'll hear a jumble of vernaculars spoken in Delhi, the most common being Hindi, English, Punjabi and Urdu. In terms of its layout, Delhi encapsulates two very different worlds, the 'old' and the 'new', each presenting deliciously different experiences. Spacious New Delhi was built as the imperial capital of India by the British; rambunctious Old Delhi served as the capital of Islamic India. Visitors can easily dip into both, spending half the day immersing themselves in history at the dramatic Red Fort, Jama Masjid and medieval-flavoured bazaars of Old Delhi, and the other half reviving themselves over frothy cappuccinos or frosty cocktails at one of New Delhi's swanky cafés and bars. Furthermore, Delhi's recent global cuisine revolution means that hungry travellers can now feast on everything from meaty Mughlai curries and plump South Indian idlis (rice cakes), to crispy wood-fired pizzas and squishy sashimi.

For those here to catch a flight home there are some glorious last-minute shopping opportunities, with handicrafts from all around India – a real blessing if you regret not buying that twinkling mirrorwork bedspread in Rajasthan or striking Madhubani painting in Bihar.
AROUND DELHI - THE GOLDEN TRIANGLE
Visit Delhi and follow the famous Golden Triangle. Enjoy the perfect introduction to India's three most popular destinations - Delhi, Agra and Jaipur to explore the icons and discover the secrets of this fascinating region. From the capital of Delhi, with its bustling markets, magnificent monuments and colonial past you head to Agra to view the well preserved Agra Fort and the stunning Taj Mahal. Truly one of the wonders of the world, see why it was described by Rabindranath Tagore as a 'teardrop on the face of eternity'. Then continue on to to Jaipur, the capital of Rajasthan, discover why this is known as the Pink City and explore the incredible Amber Fort.
Highlights
Red Fort, Raj Ghat, Humayun's Tomb and Qutab Minar in Delhi.
Sunrise at the Taj Mahal.
Red Fort in Agra.
Splendour of the deserted city of Fatehpur Sikri.
Amber Fort, Hawa Mahal, Jantar Mantar and City Palace in Jaipur.