About Venue
The Leela Ambience Convention Hotel, 1, CBD,
Maharaja Surajmal Road, Delhi.
The venue of the Conference is at The Leela Ambience Convention Hotel , Delhi. The Leela Ambience Convention Hotel, Delhi (formerly known as Kempinski Ambience Hotel Delhi), is strategically located near the historic Old Delhi as well as the central business districts of Delhi, Ghaziabad and Noida. The hotel is a landmark for both business and leisure travelers in the city
The Leela Ambience Convention Hotel, Delhi offers 480 rooms and suites; 70,000 square feet of multi-purpose meeting and banqueting space, including a pillar-less ballroom a with pre function area in excess of 30,000 square feet. One of the largest in a luxury hotel in India, the ballroom can accommodate more than 6000 guests in a cocktail format and 2500 in theatre-style. The Ballroom can be divided into 5 smaller rooms with flexible seating and adjacent to the Ballroom are 4 VIP guest rooms which are used as break away areas. The hotel also offers a second ballroom with an area of 3500 square feet and an exclusive 1100 square feet outdoor patio, 2 exclusive boardrooms and 3 meeting rooms.
Two exclusively appointed business centres at the hotel, comprising of 7 additional boardrooms compliment the convention facilities, on the ground level. Each of these business centres on the second floor is equipped with state of the art LED screens, world class office equipment and personalised executive service.
The hotel is a 45-minute drive from the Delhi airport, and is well connected via wide and planned road network including the National Highway 8. The luxury hotel is also conveniently connected to the city via Delhi Metro.
FACTS ABOUT THE HOTEL
The Leela Ambience Convention Hotel, Delhi at a glance. Offers 480 guestrooms and suites spread over eight of the hotel's 12 floors.
409 Premier Rooms
46 Premier Rooms With Balcony
12 Executive suites
12 Deluxe suites
1 Presidential suite
12 meeting rooms and 2 ballrooms
3 restaurants and 1 bar
Two temperature controlled outdoor swimming-pools, two fitness centers with steam and sauna
Shanaya Spa
In room state-of-the-art technology
Indira Gandhi International Airport





Delhi Junction Railway Station




For further information, please visit: www.theleela.com
ABOUT DELHI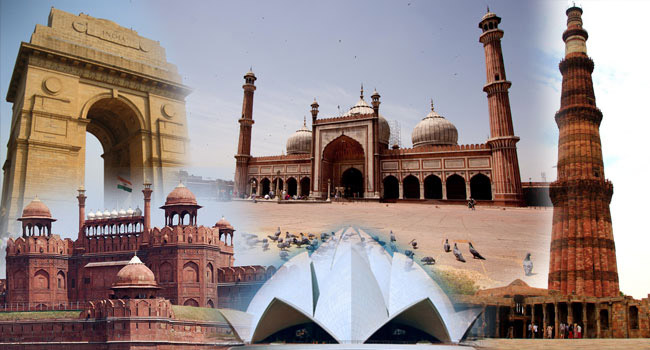 Delhi – with its tenacious touts and crush of mechanical and human traffic – can be downright confronting and confounding for the first-time visitor. But don't let petulant first impressions muddy the plus points of this truly multidimensional metropolis. Scratch beyond the gritty surface and you'll swiftly discover that India's capital is sprinkled with glittering gems: captivating ancient monuments, magnificent museums, a vivacious performing-arts scene and some of the subcontinent's yummiest places to eat.

A vibrant melting pot, you'll hear a jumble of vernaculars spoken in Delhi, the most common being Hindi, English, Punjabi and Urdu. In terms of its layout, Delhi encapsulates two very different worlds, the 'old' and the 'new', each presenting deliciously different experiences. Spacious New Delhi was built as the imperial capital of India by the British; rambunctious Old Delhi served as the capital of Islamic India. Visitors can easily dip into both, spending half the day immersing themselves in history at the dramatic Red Fort, Jama Masjid and medieval-flavoured bazaars of Old Delhi, and the other half reviving themselves over frothy cappuccinos or frosty cocktails at one of New Delhi's swanky cafés and bars. Furthermore, Delhi's recent global cuisine revolution means that hungry travellers can now feast on everything from meaty Mughlai curries and plump South Indian idlis (rice cakes), to crispy wood-fired pizzas and squishy sashimi.

For those here to catch a flight home there are some glorious last-minute shopping opportunities, with handicrafts from all around India – a real blessing if you regret not buying that twinkling mirrorwork bedspread in Rajasthan or striking Madhubani painting in Bihar.

AROUND DELHI - THE GOLDEN TRIANGLE
Visit Delhi and follow the famous Golden Triangle. Enjoy the perfect introduction to India's three most popular destinations - Delhi, Agra and Jaipur to explore the icons and discover the secrets of this fascinating region. From the capital of Delhi, with its bustling markets, magnificent monuments and colonial past you head to Agra to view the well preserved Agra Fort and the stunning Taj Mahal. Truly one of the wonders of the world, see why it was described by Rabindranath Tagore as a 'teardrop on the face of eternity'. Then continue on to to Jaipur, the capital of Rajasthan, discover why this is known as the Pink City and explore the incredible Amber Fort.